Online Appointment Management Software is fast becoming the standard for any sized Salon or Spa. Our primary mission at SalonBridge is to provide our clients with a world class service to help you maintain optimal business management and to save you time to ensure that you can do what you love through the use of our software.
Moving to an online solution, or even changing providers can be a daunting process. SalonBridge makes this process as easy and pain-free as possible and to help, we've put together a list of the top 10 reasons why you should adopt an Online Appointment Management System today:
Time
From the very start, our mission was to create a service that saves you time so that you can spend more time doing what you love! How much time do you spend every week or month going through your books and calculating how much money you have made, or which clients still owe you money, or whether you are being stolen from? SalonBridge saves you hours of time every week by providing instant reporting on your entire business such as instant cash-up, debtors, revenue and commission reports. Our account management system means that you can instantly see a history of your client accounts and be able to see who owes you money. Say goodbye to endless spreadsheets and calculating commissions every week! 🙂
24-Hour Access
We're not saying that you should be working until all hours of the night. On the contrary, by using SalonBridge, you will have more time to yourself! 🙂 But how often have you been away from your Salon or Spa and wondered what your day looks like tomorrow? Or you're not able to make it in and need to contact a client but don't have their details? Easy! Simply log in from your phone, tablet or computer at home and see for yourself. You can access SalonBridge any time you want. It's always available and you can instantly see how many clients you have booked for the day, week or month and quickly be able to contact the clients if you need to.
Security
Think about how you currently save your client information, appointments and payment records. Do you write it down in a book and use client cards? Do you have a folder filled with receipts containing your client information? Or perhaps you moved on from that system and store everything on your laptop. An excel spreadsheet containing your clients and monthly payments history for when you do your monthly finances. The reality is that books get lost/burnt/stolen and laptops have an average life span of a few years. Having your client information, appointments and accounts history with SalonBridge means that your data is NEVER lost or stolen. Because SalonBridge is cloud based, simply log in from a different device and all of your data is there, ready for you to carry on servicing your clients.
Practicality
A common trait among all Salons and Spa's is that they look tranquil, clean and professional. Who wants their business to look messy for a client? You want to create a professional atmosphere that is serene and beautiful. Bulky appointment books that have been scribbled in by every therapist looks untidy and conflicts with the atmosphere you are trying to create. Now imagine being able to have all of this on a single tablet which can be kept in a drawer or displayed for your clients to see how seriously you take your business.Your clients will be impressed with your professional consideration of their personal information.
Appointment Reminders
Don't you hate it when a client forgets about their appointment or gets the time or date wrong? How much time do you spend every day manually going through your appointment book and sending out reminders just so that your clients will remember to come for the treatment they booked in the first place? Appointment reminders are now commonplace in the appointment industry and are expected by clients. SalonBridge lets you configure reminders and can automatically send your clients email or SMS reminders every step of the way, minimizing 'no-shows' and making your client feel like they are important!
24/7 Availability
Picture this…you're busy with a client and your phone rings for a new appointment. You don't answer it so you call the client afterwards and write down their booking, hoping that they remember to come. One of the fundamental features we put in place was the ability for you to accept appointments 24/7. Even when you are busy with a client. The SalonBridge Appointment Widget can be plugged-in seamlessly to your website so clients can instantly book a service with you at an available time. Only your available times are shown to prevent double bookings and their appointments appear directly in your calendar. You also get notified when this happens so no appointment falls through the cracks.
Prevents over bookings, double bookings and reduces 'no-shows'
Over-bookings and double bookings happen all the time. Someone may forget to write down a client's appointment or thinks that you can squeeze in an extra appointment after your standard working hours. Sometimes clients call you on your cell phone and you forget to write it down in the appointment book when you get into work the next day. These things happen. SalonBridge lets you set your working hours for each day and clearly mark you as 'not working' during your unavailable hours. Because our solution is cloud-based, you can log in from home and enter in the client's appointment should they make it after hours. Say goodbye to never having a lunch break and working late! 🙂
Reduces Errors
SalonBridge was designed from the ground up to limit the amount of errors that are made.With accurate user roles and logging, you can set limits to what staff members are able to do and see in the system. Instantly see who made an appointment or sold a stock item. With unlimited, 24/7 support, our dedicated staff can provide personalized training to you and your staff, ensuring that your business runs smoothly.
Expand your Presence
Clients expect to see you online these days. Whether that be on Facebook or by searching Google. With more and more people using their phones to browse and book for services, SalonBridge gives you the tools to expand your presence. Accept bookings and let clients find you quickly!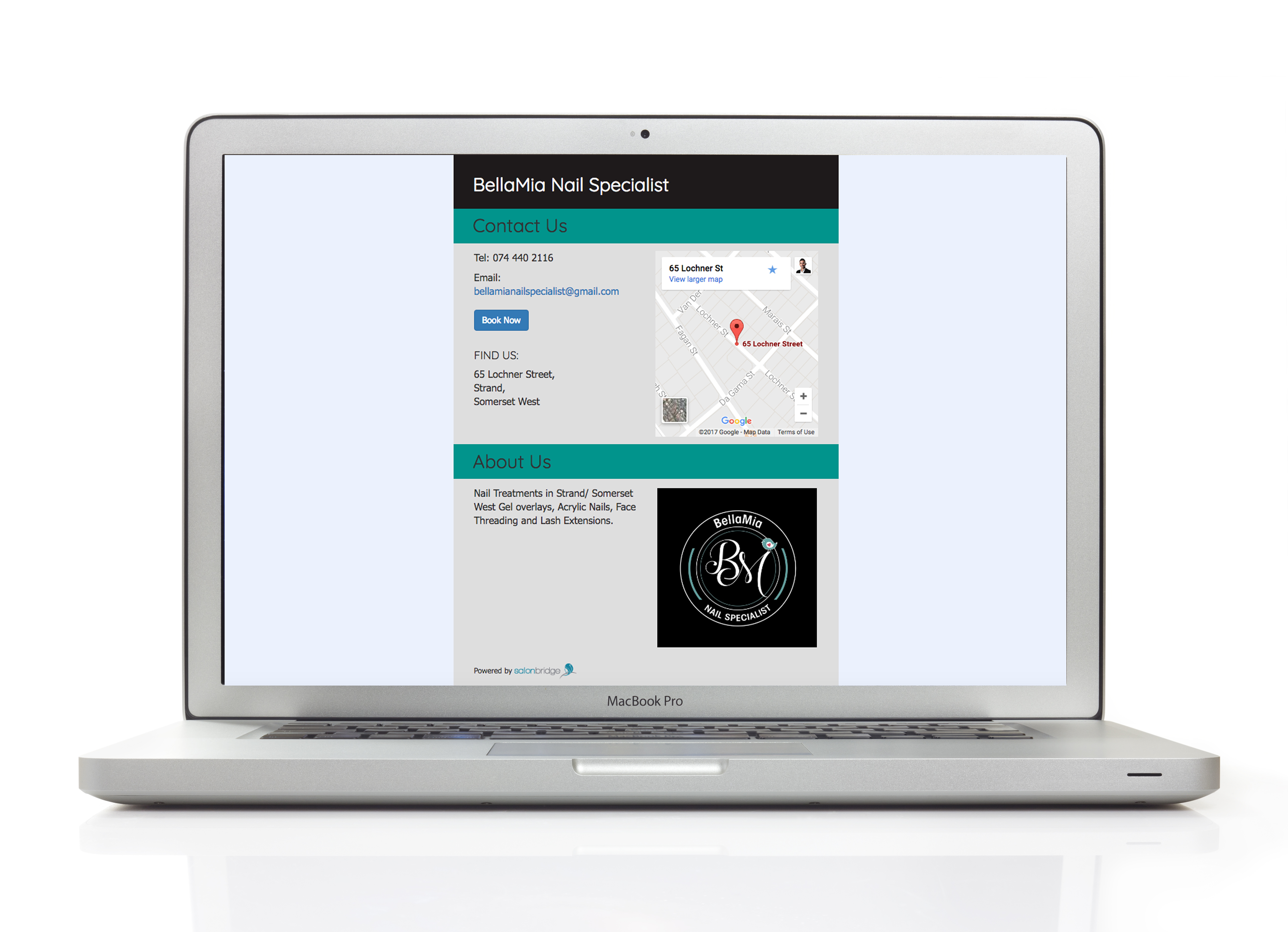 Cost Effective
We get it…your appointment book doesn't cost you anything and whats the worst that can happen to it? As you know, your time equals money and by doing the things that SalonBridge does for you instantly, you are losing money. Starting at just R299 per month, using our services costs the same as a single treatment at your Salon or Spa and saves you thousands every month. Can you really put a price on losing every one of your client cards or your appointment book?
Want to find out more? See some of our other features and sign-up today for a free trial! 🙂
Comments
comments